A mobile hotspot from Windows computer is not a new idea since Windows 7 or earlier, but Microsoft has made it official to create a mobile hotspot in Windows 10. On Windows 7/8, many of us used hotspot software like Connectify to create a mobile hotspot for all our smartphones and tablets. On Windows 10, however, there is no need for third-party tools, because the function has been built into the system. This is an easy tutorial that will guide you to create a mobile hotspot from Windows 10 step by step.
What we will need
A Windows 10 computer with a WiFi adapter and a broadband connection. The broadband connection can be through either Ethernet or WiFi. All current laptops have built-in WiFi adapters, while desktop PCs can use USB wireless adapters.
Good internet connection.
One or more mobile devices.
Steps to create a mobile hotspot in Windows 10
Click the Start button on the bottom-left corner, and then choose Settings (gear icon) > Network & Internet.
Select Mobile hotspot from the sidebar.
Click the switch button to turn on the mobile hotspot.
Click Edit, and set Network name, password, and band (leave it to default).
On your smartphone, turn on WiFi, find the hotspot according to the network name, and then connect with the password.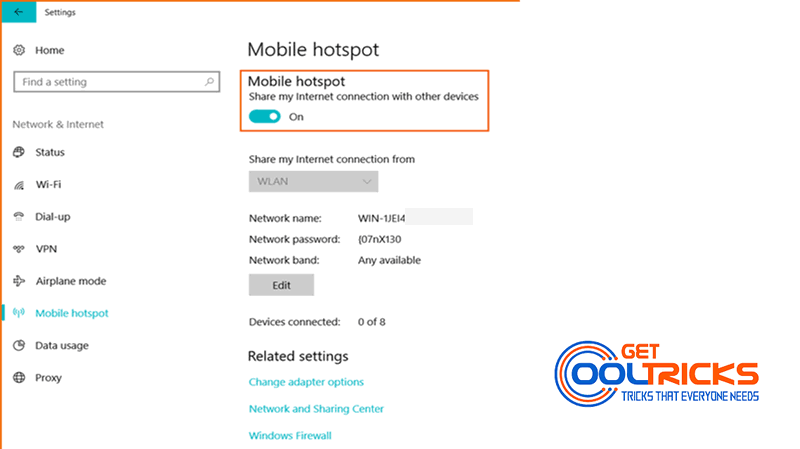 Once the mobile hotspot is turned on, you can find devices (maximal 8) connected to the hotspot. When it is turned off, you can choose whether to allow another device to turn on the mobile hotspot, which requires both devices to be paired through Bluetooth.
It is super easy to create a mobile hotspot on a Windows 10 computer once you know there is an option to do that. Theoretically, the built-in function should be more stable than the hotspot software.
Other People are Reading
Please report your experience in the comment box below if you find anything interesting about Windows 10 mobile hotspot.