YouTube is a famous video platform, where users are allowed to share and watch videos. Few people have the habit of watching the same videos again and again. This will increase their bandwidth usage. This tutorial is to help such users. They can download and watch the videos offline even on their mobile device that runs Android. YouTube videos can be easily downloaded on almost all android device using a simple app named TubeMate. If you want to download YouTube videos on your computer you can read the tutorials on Downloading YouTube videos without using software and Download YouTube videos in any browser.
Downloading and Installing TubeMate in Android
TubeMate Video downloader is no longer available on Google Play Store. So Readers can download TubeMate from the developer's Official website http://tubemate.net/. There are so many infected fake TubeMates on 'Google Play store' and internet. Please get TubeMate from the verified sites for your safety. Check and download the Latest TubeMate App.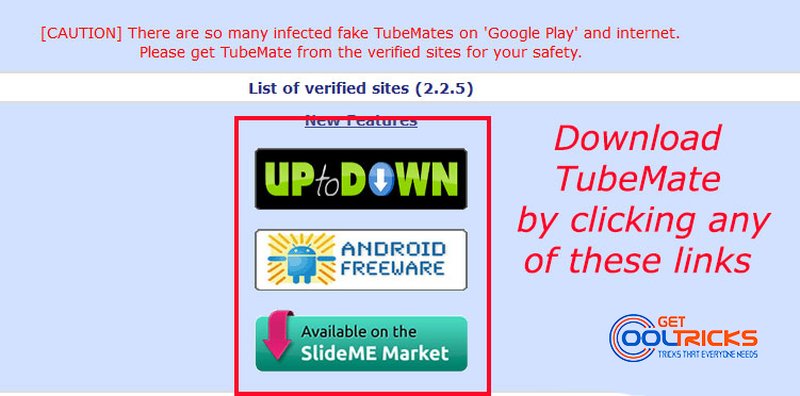 Download this App and copy it to your phone. Special instructions are not needed for installing this App as this can be installed as a normal App. Turn on 'Allow Installation from Unknown Sources' option in your Phone's Security settings if the installation fails.
Using TubeMate to download Videos
Open the TubeMate App when the installation finishes. When you open the app for the first time you have to go through a setup process that has several steps. Agree to their 'Terms of Use' and proceed further. In the home screen of the app, you will see a YouTube button. Click that to browse YouTube for your Favorite videos or simply click the search icon in the app.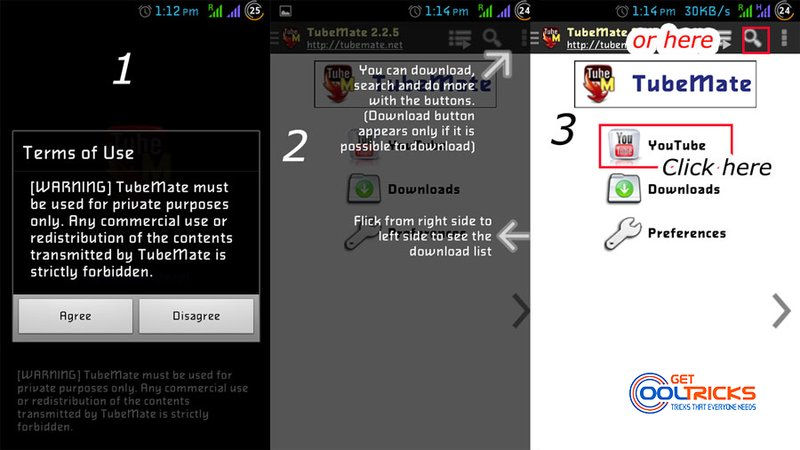 Click the download icon at the top of the video page. A pop-up opens showing several formats in which the video can be downloaded. Select the format you want and click the download button. It will take a few moments to some minutes according to the speed of your internet connection and the size of the video. Your favorite YouTube video is now available offline for viewing.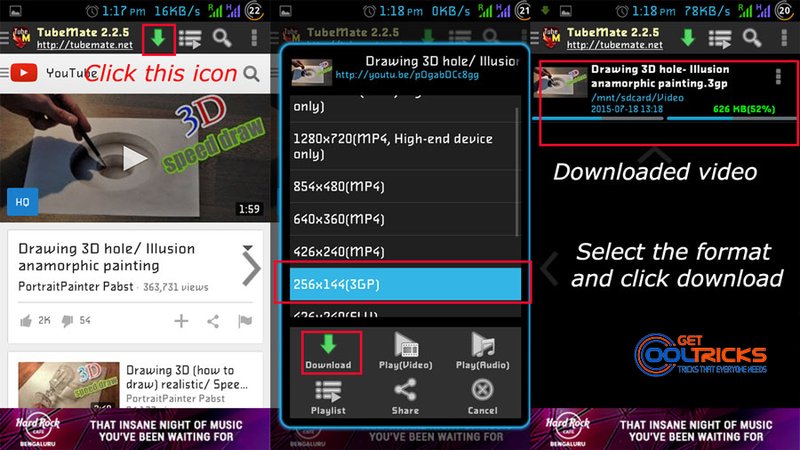 Quick Tips
Turn on 'Allow Installation from Unknown Sources' option in your Phone's Security settings if you are installing apps outside of Google play for the first time.
If you have ordinary multimedia phones try Downloading the low-resolution 3GP or MP4 videos.
You can download the Videos as MP3 also. Select MP3 from the format list and click download.
Other People are reading
You have now learned to download YouTube videos on your Android device. Hope you liked this tutorial. For any clarifications and suggestions, use the comment box below. Subscribe to our Newsletter for getting the future updates directly to your inbox. Keep visiting Getcooltricks.com