This simple tutorial will walk you through the steps involved in removing a Google account from any Android device. Before proceeding further you should know about Google's Factory Reset Protection which got introduced with Android Lollipop 5.1. The factory reset is a clean way to solve unknown problems, system glitches, or potential privacy leaking, but sometimes it might cause serious consequences if you are unaware of Factory Reset Protection.
Factory Reset Protection
Since Android Lollipop 5.1, Factory Reset Protection has been added to Android mobile devices. Once you sign in a Google account when setting up your smartphone, the FRP lock is activated. If anyone reset your phone without removing the Google account, he/she would not be able to set up or use the phone without your account and password.
When Will FRP Work?
Try imagining: It would be painful if your beloved handset got stolen. What's worse? You may start worrying that the thief is peeping your private information on the cell phone. Of course, you can still remotely lock or erase the Android device if 'Find My Device' has been turned on. However, that's still not enough! The thief may even have done a factory reset for you already and continue to use your cell phone as if it is newly bought. Actually, this scene won't happen thanks to Factory Reset Protection.
Why should we remove the Google account?
We don't know whether this feature would reduce the theft rate, but sometimes a good idea may turn to be a barrier. What if you forgot to remove the account and sold the device via the internet platform? Either you or the buyer would factory reset it, and the buyer won't be able to set it up. Will you take the risk and give your Google account and password to a stranger? Why not remove the Google account in advance?
How to remove Google account from Android?
Step 1. Open Settings app, and enter Accounts.
Step 2. Select Google from the accounts list, and tap the account to enter.
Step 3. Tap the three-dot menu and choose Remove account.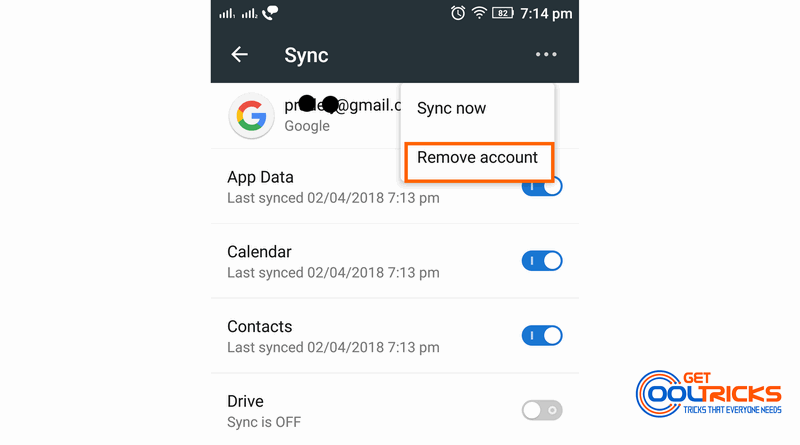 Note: Make sure your Google account is normally signed in and in sync or 'Remove account' won't show.
Other People are reading
Now you should know when and why to remove your Google account from your phone. Comment any thoughts, suggestions or problems in the comment box below.