PM Modi flagged off West Bengal's first Vande Bharata Express train (7th)
PM Modi will inaugurate 26th National Youth Festival in Hubbali on Jan 12, 2023.
PM Modi to inaugurate NRI(Non-Residential India) or Pravasi Bharathiya Diwas summit to be held in Indore in Madhya Pradesh on Jan 8- 10, 2023.
PM Modi to virtually inaugurate the Global Investors Summit on Jan 11-12,2023.
PM Modi inaugurates Nagpur- Mumbai expressway in Maharashtra Covering Distance of 520 Km and Connecting Nagpur and Shiradi.
PM Modi Visits Golden Jubilee Celebration of the North Eastern Council in Shillong.
PM Modi inaugurates Pradhanmantri Sangrahalaya in New Delhi
PM Modi inaugurates centenary year celebrations of Mathrubhumi
Prime Minister Modi launches infrastructure projects worth over Rs. 28,000 crores
Central Vista Inauguration By PM Modi
Modi inaugurate Madhya Pradesh first Tribal Village in Khajuraho during Global Investors Summit.
Modi inaugurates 501 km samruddhi Section Expressway in Nagpur.
PM Modi flagged off the 6th Vande Bharat train in Nagpur, Maharashtra
PM Modi inaugurated the 4th Vande Bharat Express in Himachal Pradesh
PM Modi participated in the historic programme marking 'Veer Bal Diwas' in Delhi
PM Modi addressed the 75th Amrut Mahotsav of Shree Swaminarayan Gurukul Rajkot Sansthan
PM Modi inaugurates Kashi Vishwanath Corridor in Varanasi
Prime Minister Narendra Modi inaugurated and laid the foundation stone of schemes worth Rs 17,547 crore in a program organized in Haldwani (Nainital), including the inauguration of 06 schemes worth Rs 3420 crore and the foundation stone of 17 schemes worth Rs 14,127 crore.
PM Modi to inaugurate 108th Indian Science Congress
Modi inaugurate month long Kasi Tamil Sangam in Varanasi
Modi inaugurates 600 MW Powerplant Greenfield Airport in Arunachal Pradesh.
PM Modi inaugurates Donyi polo airport in Arunachal Pradesh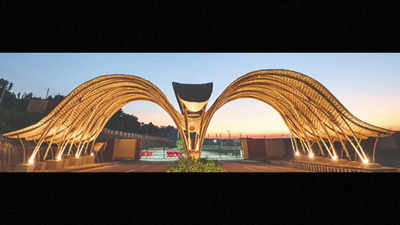 PM Modi inaugurates 36th National Games Grand opening Ceremony in Gujarat