Is your Windows phone experiencing technical issues? The Windows Phone Recovery Tool can help you recover a phone that is not responding, appears to be stuck or is having any software related issues. This tutorial is for Windows phone users. If you own other Microsoft Nokia phones you may like to read: How to use the Nokia Software Recovery Tool to flash or update or recover your frozen Nokia phones. Windows phone Recovery tool is exclusively coded to flash the phones running Windows Mobile Operating System. This is the free phone flashing tool from Microsoft that allows the Windows phone users to update or flash or recover HTC One, HTC 8X phones and all Lumia phones running Windows phone 8 or newer versions in their home.
Requirements
It requires a computer that runs on Windows 7 or other newer versions, for the installation to occur properly. A minimum of 4 GB disk space is required. USB ports and a compatible USB cable to connect your phone to the computer are required. Internet connection is mandatory for the tool to download the phone software from the Microsoft Cloud Storage server. Make sure that your phone has at least 25% of charge. Your phone may get damaged if the installation gets interrupted in the middle.
Caution!
This tool will flash and restore the phone to its factory default settings. So users are requested to take a complete backup of their personal data including the contacts, games, apps, music, photos, etc. Lots of backup and restore software available on the internet, use the one that best suits your need or use the built-in option to take a backup. The backup option can be accessed through App list > Settings > Backup.
Download and installation
Download the Windows Phone Recovery Tool (WPRT) from this link: Download Windows Phone Recovery Tool. Install the downloaded software by double-clicking it. It may take some time for the installer to complete the installation. Run the tool once the installation completes. This tool can flash only Windows phones. Other Microsoft Nokia phone users can check my tutorial 'How to use Nokia Software Recovery Tool' to recover or flash or update the device software of their Nokia phones.
Using Windows Phone Recovery Tool
Run the tool and connect your phone to the computer with a compatible USB cable. This tool detects your phone automatically when connected. Click the phone model on the screen to continue. Now the tool will show a screen, in which the firmware details of your phone are displayed. You can click the Install Software button at the bottom to begin the process. If your firmware is up to date it will show a button to Reinstall software. When you click the install Software button you will see a disclaimer page. Click Continue in that. This tool will now start to download the firmware for the connected phone. Downloading time may vary depending on internet speed. Check the screenshots for details.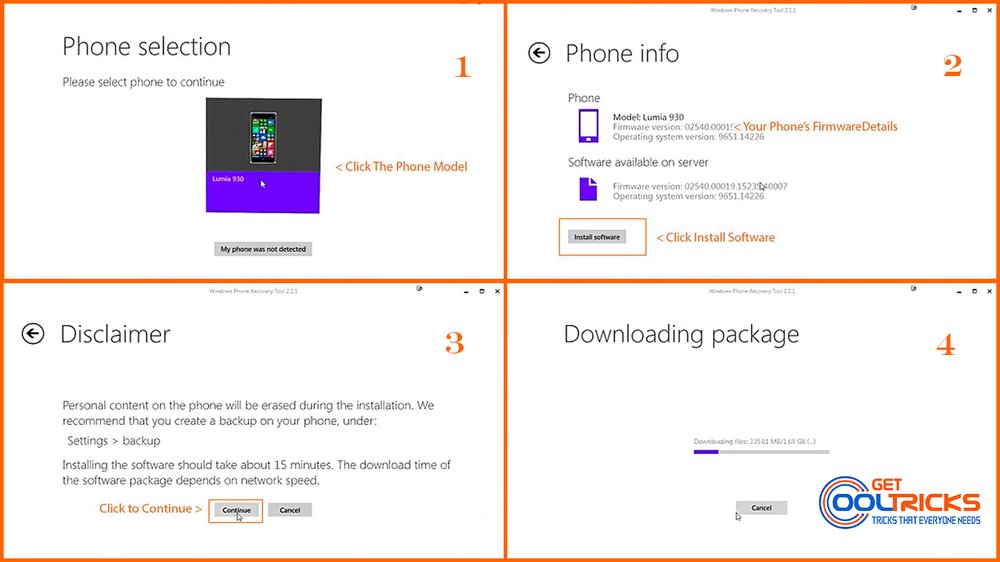 Software Package Installation
Once the firmware download completes, the tool will show a message to Check Battery. Make sure that your phone has at least 25% of charge remaining or else it may damage your phone. Click Next in that screen. The tool will now install the firmware on your phone. This is the most critical process. Do not use or disconnect your phone. Your phone may not boot properly if you do so. During this process, your phone's screen may show a progress bar as shown in the picture. It may take a while for the installation to occur. A screen appears, showing 'Operation Completed Successfully'. Click Finish in that to finish the installation process. Check the image for details.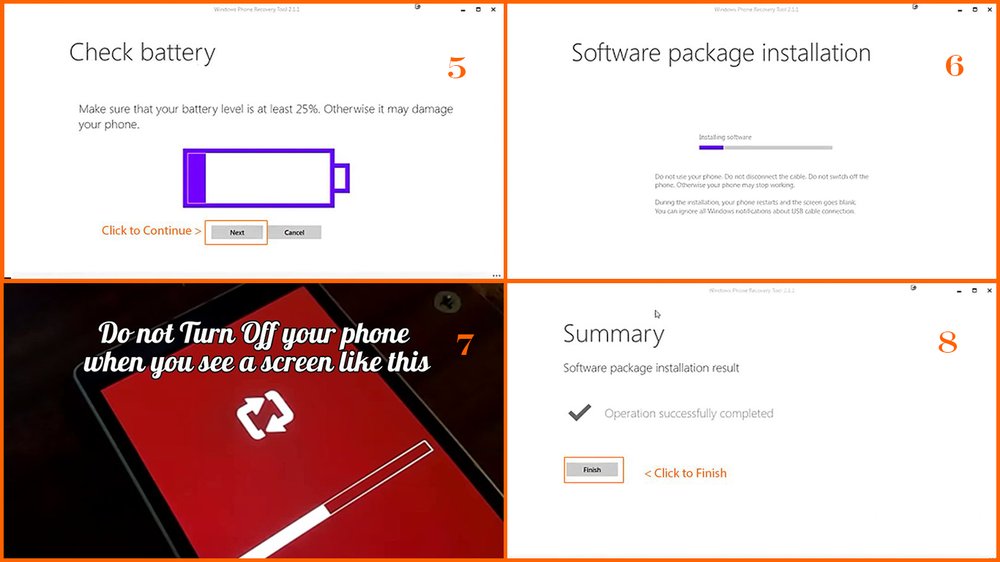 Your phone may restart to finish the installation. It may take more time than usual for the phone to boot during this restart. Your phone will now boot with the factory default settings. Select the language of your choice and continue. Most probably, your phone has the latest version of firmware now. You can check that by reconnecting your phone to this tool again.
Other people are reading
You have now learned to Recover or flash or update your Windows phone using Windows Phone Recovery Tool. Leave your valuable feedback and suggestions in the comment box provided below. Subscribe to our newsletter for getting the future updates directly to your inbox.