In my article about Microsoft Media Creation Tool, I had explained everything about the tool and its usage. It is free software from Microsoft, that gives a better downloading experience for the customers running Windows 7, 8.1 or 10 on their computer. This tool can Upgrade your computer to Windows 10, download the official Windows 10 ISO files and creates media using the built-in media creation option for USBs and DVDs. Here are the simple steps, by following which you can download Windows 10 ISO images without using the Media Creation Tool.
Microsoft Tech Bench
You can download a copy of Windows 10 ISO file through Microsoft Tech Bench upgrade program, without using any software or download tool. You can make use of this if you do not have the privilege to run any software on your computer. Visit the Microsoft Tech Bench now. Scroll down to the bottom of the page and you will see a drop-down menu. Select the edition of windows which you want to download. If you are not sure, select Windows 10 in that and click Verify. It will load another drop-down and in that select the preferred language and then click verify.
Now you will see the download links to download 32-bit version as well as the 64-bit version. Click the 32 – bit download if you want Windows 10 for a 32 – bit device or the 64 – bit download if you are downloading for a 64 – bit device. You can use a download manager to speed up the download process. Check the screenshots provided below for reference.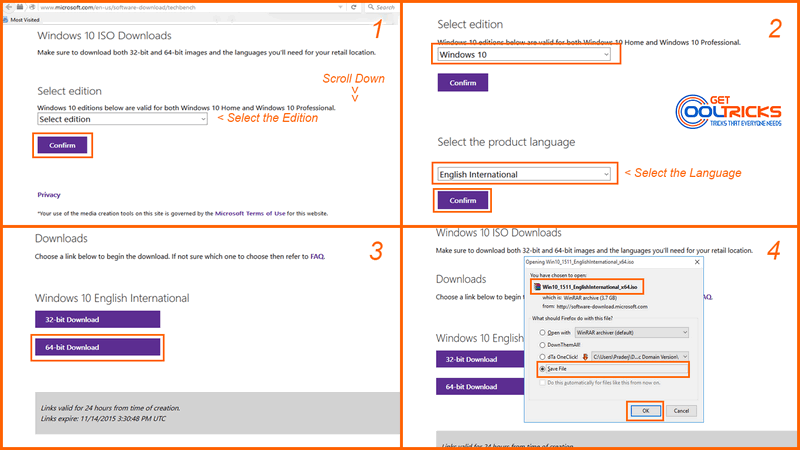 Note
Kindly note that the links created through Tech Bench stay only for 24 hours from the time of creation. Make sure that you are finishing the download within 24 hours.
Other People are reading
You have now learned to Download the Official Windows 10 ISO images directly from the Microsoft Cloud. Hope you liked it. Leave your valuable feedback and suggestions in the comment box below. Subscribe to our newsletter for getting the future updates directly to your inbox.