This is a simple tutorial to do a factory reset on Nokia 220 and 225. The factory reset is also called hard reset, as it deletes all the user data including contacts, call logs and other apps that are installed manually and restores the factory default settings. For instructions on installing apps in Nokia 220 and 225 check Installing Apps in Nokia 220 & 225. To download Apps for these phones check Nokia 220 & 225 App download page.
Caution!
When you do a factory reset, all the user data will be erased and the factory default settings will be restored. It is better to have a backup of your data before doing a factory reset.
Factory Reset Nokia 220 and 225
The simplest way to access the reset menu is by dialing *#7370# in the dial pad or navigate to Menu > Settings > Restore Factory Settings. Press Continue in the menu that appears. It will ask the security code. Enter the security code that you use to protect your phone. If you do not have any security code, type 12345, which is the default security code for almost all Microsoft (Nokia) devices. Now press OK to do the reset. This procedure is the same for most of the Nokia phones.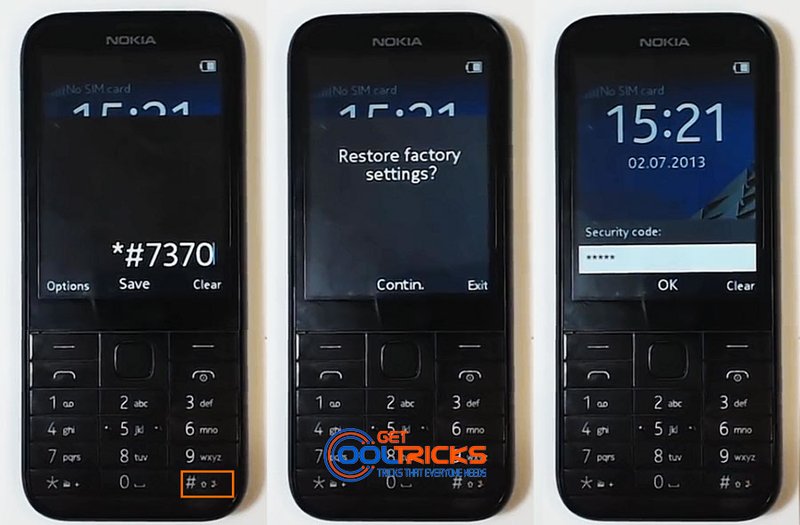 When you click OK, your phone will restart. It will take more time than usual as the settings will be restored during this restart. When your phone boots, select the language and continue. You have now learned to do a factory reset to restore factory default settings in your Nokia 220 & 225.
Other People are reading
Hope you liked this tutorial. Leave your valuable feedback and suggestions in the comment box provided below. Subscribe to our Newsletter for getting the future updates directly to your inbox.