Creating a Post in Blogger is as easy as creating a word document. This is for the new bloggers who have just created their Blog. In this tutorial, I have explained how a post is created on blogger and the options available in the post editor.
Login to your blogger dashboard using your Google account. Open the blog on which a new post is needed. You can see a button named 'New Post' below 'My blogs'. Click the button to open the text editor.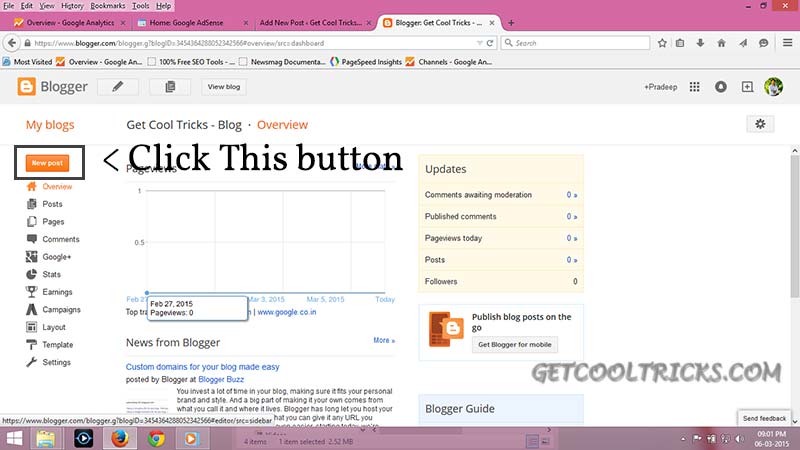 Various Options in Blogger Editor
1) Compose: This is where your contents go. All the images, texts, etc go here.
2) HTML: This is where you can check the raw HTML of the contents added to the post. If you are good in HTML, you can directly add contents in HTML editor. HTML field accepts all the basic HTML tags. So, you can add the styles to the HTML editor directly.
3) Post Settings: This is where the setting for the posts are set. This setting includes adding labels to the post, scheduling the post, setting the permalink, adding the location, writing the search description and some options to allow comments, etc.
4) The Top panel: The top panel is where you can modify the entered post contents. It has options to style the texts like changing the fonts, font weight, font color, aligning the text etc. It has some advanced options like inserting video into the post, inserting links into the post, etc.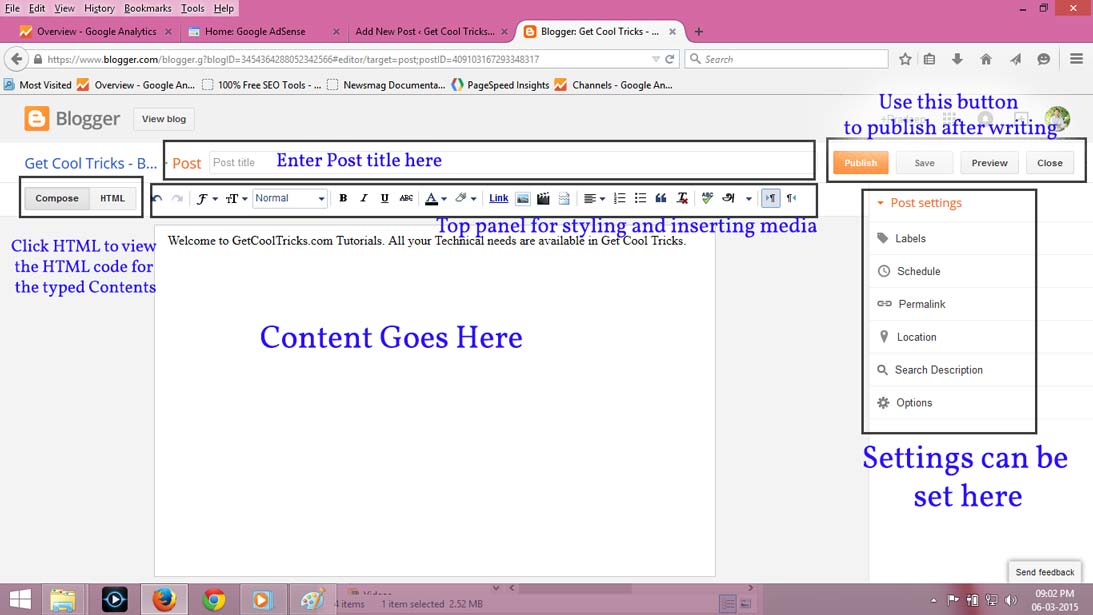 Creating the first post in blogger
In the Blogger Editor, enter the name for your post. Type the contents in the content area. Use the Settings panel to set various settings like permalinks, description, etc. These settings are mandatory to improve the SEO of your blog. Check the above screenshot for details. After typing the contents and inserting the media, you can publish the post. Before publishing, make sure that all the contents are aligned properly. Click the preview button to preview the post before publishing. If you want to save the post as a draft, click the save button. If the post is ready, click the publish button. You have now published your post.
Other People are reading
You have now learned to write your first post in blogger. Leave your valuable suggestions and feedback in the comment section below. Subscribe to our Newsletter for getting the future updates directly on your inbox.