This post is especially for the new bloggers, who really don't know where to start. This tutorial helps you to create static pages on a Blogger blog. Blogger comes with the option to create static pages but is not fully customizable. It lacks a few features than ordinary posts like changing the permalink. If you are new to blogging, I recommend you to read the following articles, Giving Professional look to Blogger Blog, Adding Custom Robots, Creating posts in blogger. Let us see the steps to create a static page in blogger.
What is the use of Pages in Blogger Blog?
These pages are used to provide some information like About, Contact, etc. If you are using blogger default templates, then these pages can be added directly into the navigation menu. In some premium templates, these pages can only be added manually in the navigation menu. As an SEO factor, these static pages can be set with nofollow and noindex if needed, using custom robots.txt.
Limitations of Static Pages in Blogger
The limitation which static pages has from the ordinary post is that it lacks few options like setting permalinks, scheduling, location, and labeling.
How to create a Static Pages in Blogger
Login to Blogger using your Google Account. Go inside your blog from the dashboard and click Pages from the left side and then click New Page as shown here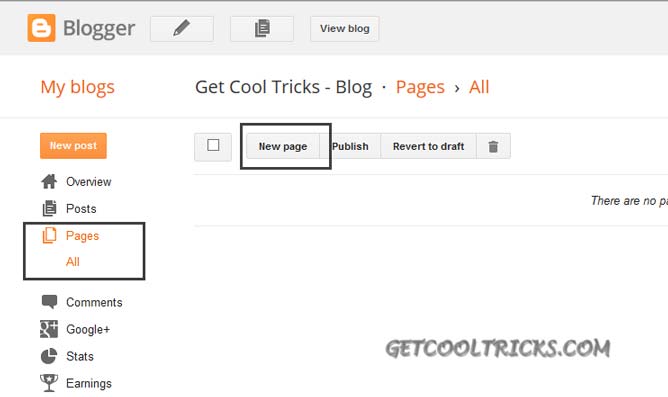 Now, You will be taken to the Page editor.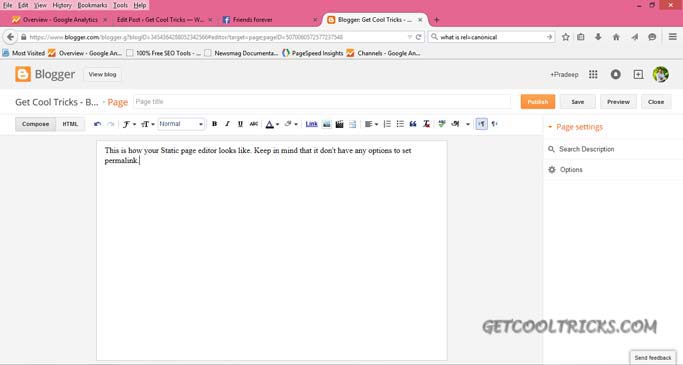 Enter the Page heading, type the contents. Click the preview button to verify the content and its proper alignment. If everything looks great, click the Publish button to publish your page. The created page will have the URL structure like 'www.yourdomain.com/p/post-name.html'. But posts will have the month and year in the URL. This is how you differentiate the posts and pages in blogger by analyzing the URL.
Hint
Since Blogger does not allow the users to enter the permalink for the pages, we have to use some tricks to get the preferred URL. Forget about the page name for now and just enter the name which you want in the URL. Click the Publish button. You will get the URL which you have entered as the page name. Again click the edit button. Change the page name as required. Start inserting contents.
Other People are reading
You have now learned to create static pages on a blogger blog. Leave your valuable suggestions and feedback in the comment section below. Subscribe to our Newsletter for getting the future updates directly to your inbox.