Before starting, let us see the importance of adding custom robots.txt to your blog or your website. If you add robots.txt to your site, the Search Engine Crawlers or Bots or spiders will get a clear idea about the structure of your site during the crawl. This file makes the indexing easier for the search engine bots. With this file, you can include or exclude certain URLs, which helps you to increase the SEO of your blog.
What is robots.txt?
A robots.txt is a file at the root of your site that indicates those parts of your site you don't want to be accessed by search engine crawlers. The file uses the Robots Exclusion Standard, which is a protocol with a small set of commands that can be used to indicate access to your site by section and by specific kinds of web crawlers (such as mobile crawlers vs desktop crawlers). Read more about robots.txt by Google here
How to add Robots.txt to your blogger blog?
Login to your blogger blog with your Google account. Go into the settings of your blog from the dashboard as shown. In that go into Search preferences. You will see Custom robots.txt. Click edit. Check the screenshot provided for details.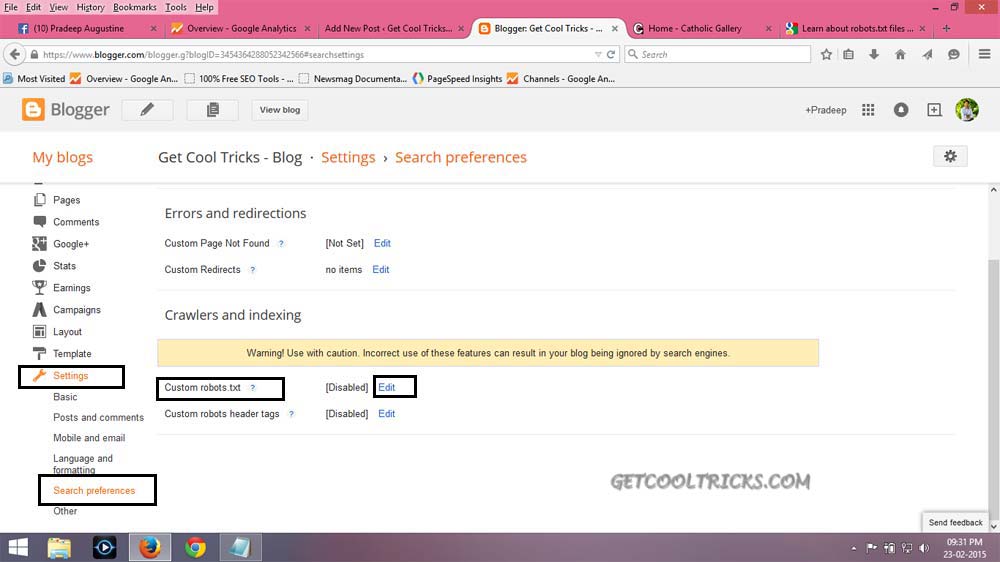 In that Custom Robots, click yes to enable custom robots. Add the following text and click save as shown below. Change the highlighted text with your domain name. If you are running your blog on a custom domain use that domain name or else the free blogger sub-domain.
User-agent: Mediapartners-Google
Disallow:
User-agent: *
Disallow: /search
Disallow: /?m=1
Disallow: /?m=0
Disallow: /*?m=1
Disallow: /*?m=0
Allow: /
Sitemap: http://

blog.getcooltricks.com

/feeds/posts/default?orderby=UPDATED
Sitemap: http://

blog.getcooltricks.com

/atom.xml?redirect=false&start-index=1&max-results=500

In the robots.txt, Allow will allow the contents to get indexed by the search engine and Disallow will block the contents from being indexed. The sitemap is the XML file or the feed that gives the clear idea about your blog contents to the search engine. Make sure that you are entering the robots.txt correctly because the wrong use of the robots.txt may leave your site from the eyes of the search engine.
Check out the live custom robots.txt by entering your site's domain name followed by /robots.txt like blog.getcooltricks.com/robots.txt. The entered robots.txt will show up there. Check it with Google webmaster tool as well.
Other People are reading
You have now learned to add a custom robots.txt to your blogger blog. Leave your valuable suggestions and feedback in the comment form below.