Did you ever try running the same application twice in parallel on an Android smartphone? Tried to log in to multiple social networking or gaming accounts at the same time? Here is the simple trick to run the same app in parallel, so that you can login with the different account simultaneously. The main advantage is that you do not need root access to run multiple instances of the App. You can login to multiple accounts of the same App on your Android phone by installing this simple application called 'Parallel Space' from the Play Store.
How does it work?
Parallel Space is a revolutionary app that allows you to simultaneously sign into two different accounts on a single Android device. Parallel Space creates a separate space on your Android phone for different user accounts. Users can run the app twice, one through the application icon downloaded to the phone directly and other through the Parallel Space App. Parallel space switches the identity of the app in one tap. The main advantage is that you don't need to log in and out of any account. You can now able to use both usernames simultaneously. In simple words, you can use two Whatsapp accounts or two messenger accounts or two gaming accounts on a single Android phone.
Running Multiple Apps Simultaneously
First of all, Download & Install Parallel Space App from the Play Store – Click here to Download.
Now open the App and tap the 'Add Apps icon' in the bottom left as shown in the image.
After tapping on the icon, you will see a lot of App that you have already installed.
Tap the More icon to see all the apps supported by Parallel Space.
Now add the App/Game you want to clone.
All the Apps added to parallel space are accessible from inside the Parallel Space App.
Apps opened using Parallel Space gives you access to login with a different account.
The latest version of Parallel Space has an option to add a shortcut to the home screen.
The latest version of parallel space also supports incognito install. The apps installed in this mode is accessible only through parallel space.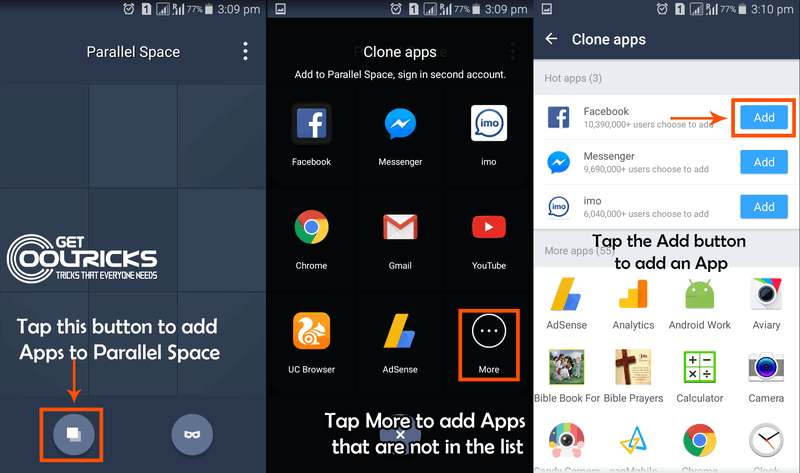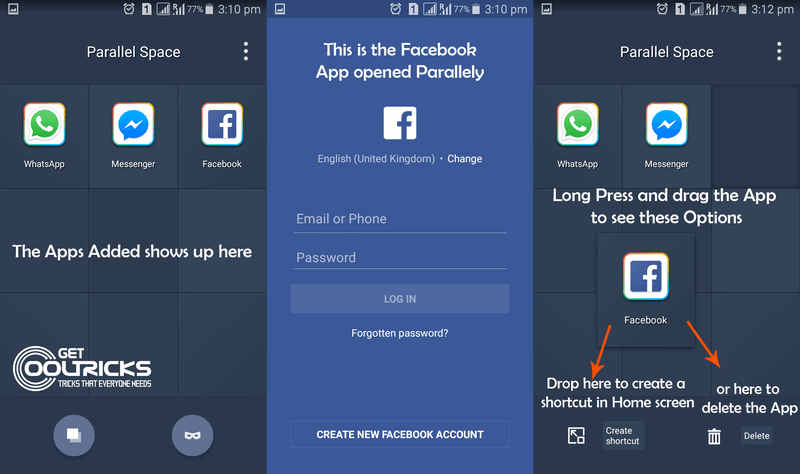 Features
This is a very simple app that does not need any special permission to run on your device.
It works on all the Android Smartphones that runs Android V4.0 or above
Powerful app with the size as small as 2 Mb.
Supports almost all Android apps including Whatsapp, Messenger apps, and other gaming apps.
Notes
The permissions required by Parallel Space are applied by all the apps running inside. Parallel Space itself will never gather any personal information from users.
Memory, battery and network traffic consumed by Parallel Space is used by the various apps running inside of it.
Other People are reading
You have now learned to use multiple instances of the same app on an Android Smartphone. Hope you liked it. If so, Kindly share this with your friends too.