ES File Manager is one of the oldest and best of its kind, but there are various interesting functions that most people have never used or tried. Actually, this famous program provider has spent much effort to produce and optimize those features. In this tutorial, we're going to introduce several useful functions of ES File Manager.
1. Download videos on Facebook/YouTube
It is not hard to download YouTube videos with a computer or an Android mobile phone, but do you know how to download videos on Facebook with a mobile phone? With ES File Manager, it is super easy to do.
Open ES File Manager.
On the Homepage, tap the three-dot menu icon and choose New.
Set Type as HTTP(Web) and input URL in Path, then tap OK. For example, enter facebook.com in Path.
Log in Facebook with your account.
Browse to find the video you want to download and open it in full screen.
Tap the download icon in the top-right corner. If the icon doesn't appear, then tap the video.
Choose Save when it asks you to Save or Share.
Wait for the download to finish, and then choose 'Open folder' or 'Open File'.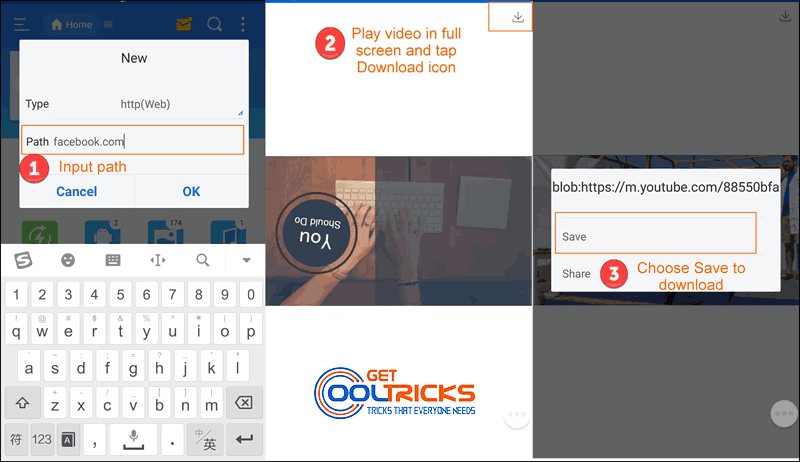 We won't use Facebook within ES File Manager too often, but it would be extremely handy when you really want to download a video you find on the Facebook page. Actually, this function can be expanded and allows users to log in to cloud storage, such as OneDrive, DropBox, and Gdrive. We have some other tricks to download Youtube videos check them here: How to download YouTube videos on Android devices, any browser, or without using any Software.
2. Extract APK files from installed apps
When we install apps and games on the Google Play store, the APK files won't be saved to the local storage of our devices, which makes it inconvenient to reinstall or share apps with friends without internet access. With ES File Manager, we can extract the APK file of an installed app easily.
On Homepage, tap the APP icon.
Find the apps you want to extract the APK file from. The top menu can help you browse all apps quickly.
Long press on the app, and then choose Backup on the bottom bar.
When the backup is completed, it will show a message: Backup application -> /sdcard/backups/apps/ Successfully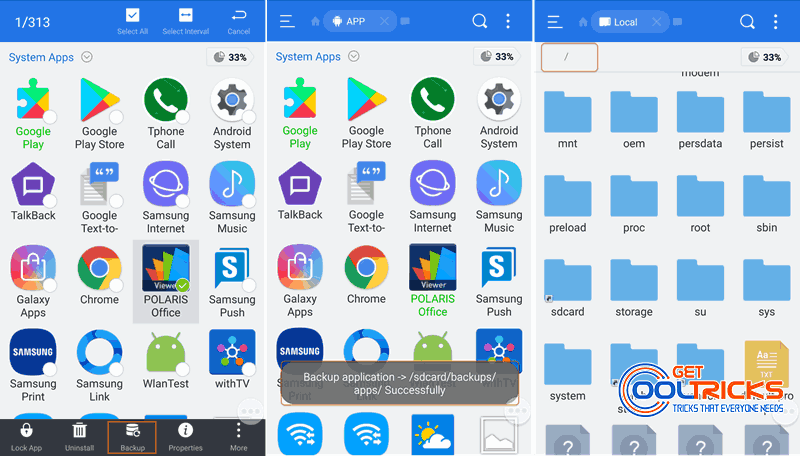 If you don't have an SD card inserted, don't be confused. Open the Internal Storage icon on the top-left, swipe from left to right on the top bar until you find / > storage. Next, tap "/", and open sdcard > backups > apps. Now you should be able to find the extracted APK file. In order to install the APK files, you'll have to go to Settings > Security and check the Unknown source. Do you know that multiple instances of the same Apps can be run on Android? Check it here: How to run multiple accounts of the same App on Android phone.
3. Mount SD card as R/W or Read-only (Require root access)
This function requires root access to work. If you have rooted your device, then turn on Root Explorer on ES File Manager first: from the left sidebar, scroll down to find and enable Root Explorer, then tap the blank area to go back to the Home page instantly, and grant Superuser request from ES File Explorer.
On the left sidebar, tap Root Explorer > Mount R/W.
Several options should be displayed, including your SD card.
Choose RO for read-only or RW for read and write.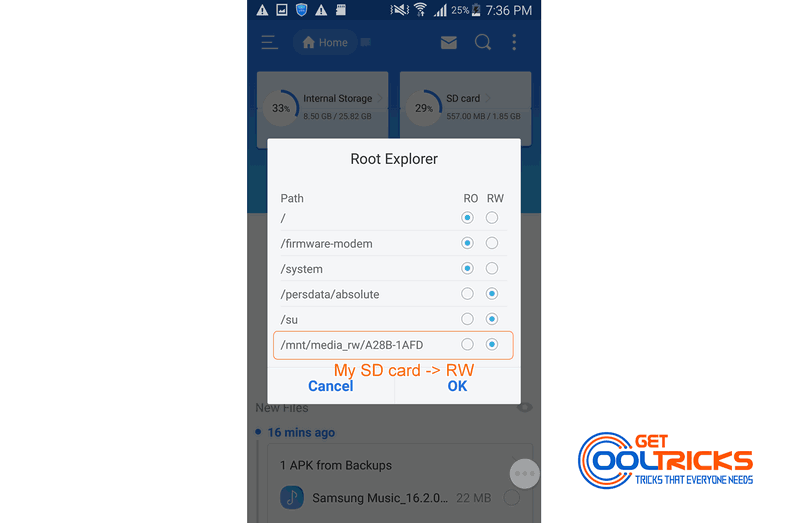 Other People are reading
The above three functions are just a small portion of ES File Manager, but they are very useful in specific conditions. If you find more features of the great file manager app, please share them with us in the comment box below.