This is the simplest guide to Flash or Update Microsoft – Nokia mobile phones using Nokia Software Recovery tool (formerly Lumia Software Recovery tool). This is the free phone flashing tool from Microsoft which allows the user to recover and reset their phone software when the phone is experiencing any software issues or for installing the updates that are released officially. It can also help you to reset the security code when you forgot it.
Simply when your phone is bricked or dead, use Nokia Software Recovery tool to bring back the phone to working condition. Windows Phone users can check: How to use Windows Phone Recovery Tool to flash or recover their phone. If yours is the series 30+ phone you may like: Installing Apps in Nokia Series 30 +, Apps for Nokia 220 & 225 – series 30+ phones. The following is the list of supported Nokia Phones that can be flashed or updated with this tool.
Supported Nokia phones
Asha and Series 40 phones that have USB interface ( Ex: Nokia 6233, 3110, etc)
Series 30+ phones that have USB interface (Ex: Nokia 220, Nokia 225, etc)
Nokia X2 platform phones (Ex: Nokia X2-01, etc)
Symbian phones (Ex: Nokia N70, N-8, etc)
Quick Tips
When connecting the phone, use 'Nokia Suite' or 'Charging only' mode instead of Data Storage Mode.
If your phone is not detected by the tool, try connecting it with a different cable.
When connecting, the phone should be ON.
Requirements
It requires a computer that runs on Windows 7 or other newer versions, for the installation to occur properly. A minimum of 4 GB disk space is required. USB ports and a compatible USB cable to connect your phone to the computer are required. Internet connection is mandatory for the tool to download the phone software from the Microsoft Cloud Storage server. Make sure that your phone has at least 25% of charge remaining. If charge level is too low, this tool will prompt you to charge your mobile before updating. Your phone may get damaged if the installation got interrupted in the middle.
Caution!
This tool will erase all the personal data during the flashing or update process. So users are requested to take a back up of all the data including the contacts, games, apps, music, photos, etc. Lots of backup and restore software available on the internet, but I recommend you to use the tools provided by the manufacturer. Backup can be taken with the use of built-in backup option available in Settings > Backup > Create backup or you can take a backup using Nokia Suite or Nokia PC Suite in a computer if you have a Symbian phone or series 40 phone. Nokia Suite and Nokia PC Suite won't work with the latest Lumia and Nokia Asha phones.
Download and installation
Download the Nokia Software Recovery Tool (NSRT) from the following link: Download Nokia Software Recovery tool. This tool is designed to work only with Nokia Phones and few old Nokia Asha phones listed above. For the latest Lumia phones use Windows Phone Recovery Tool (WPRT). Once the download is complete, Install the tool. It may take few minutes for the installation to complete. Run the tool when the installation completes.
Using Nokia Software Recovery Tool (NSRT)
Now connect the phone to your computer using a compatible USB cable. This tool will detect the phone and shows the latest software package available for the phone that is connected. For demonstration, I'm connecting a Nokia 220 phone. Nokia 220 is a series 30+ phone powered by MediaTek processors.  Use the charging only mode when connecting. When the phone is connected, this tool will search the server for the new updates. If an update is available, it will prompt you to update. Click Install to proceed with the update as shown here.
The tool will now show a page with some acknowledgments. Accept it by checking the box provided and click Continue to proceed further as shown.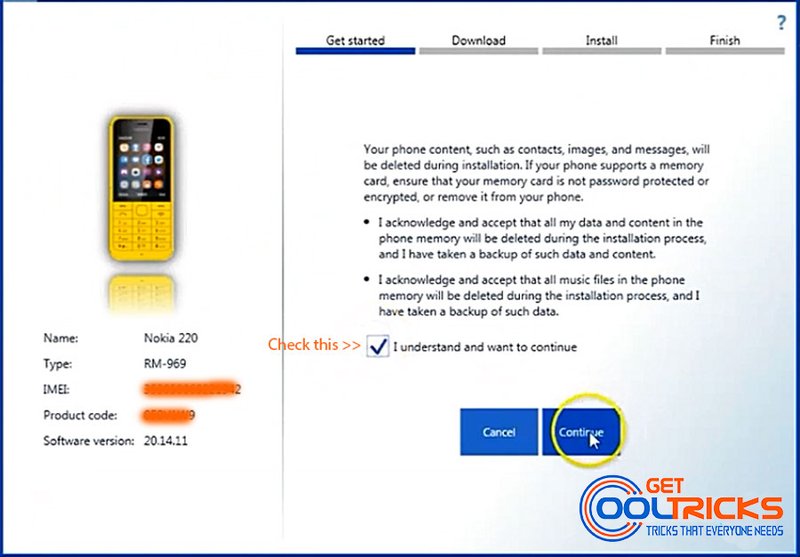 It will show another page with a warning message. Make sure that your phone's battery is at least 25%. Otherwise, it may damage your phone. Check the box provided and click continue as shown.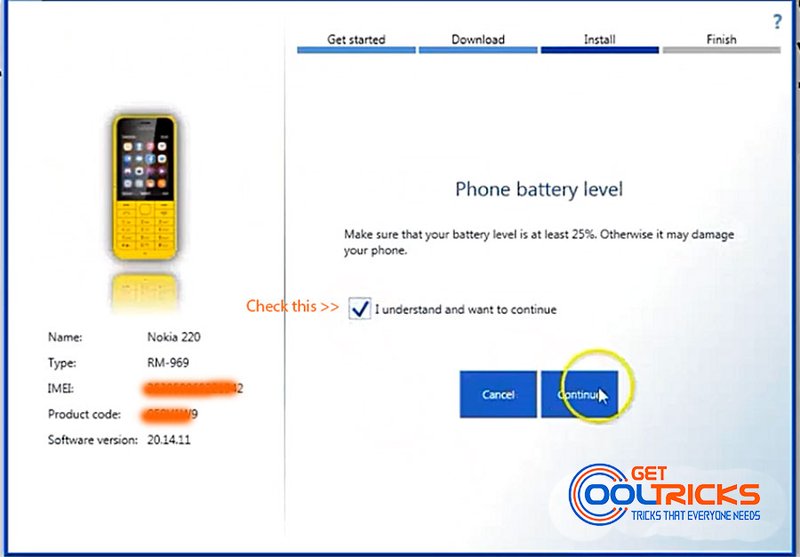 Now, this tool will start downloading the latest updates for your phone. Once the download is complete this will install the software on your phone. It is the very important process. Do not use or remove or switch off your phone during this process. If you do so, it will damage your phone. Click the Finish button when the installation completes. Your phone will restart to finish the update process. It may take a long time for the phone to boot completely during this restart. When prompted select the language on your phone and follow the screen instructions.  Your phone will have the latest version of software installed.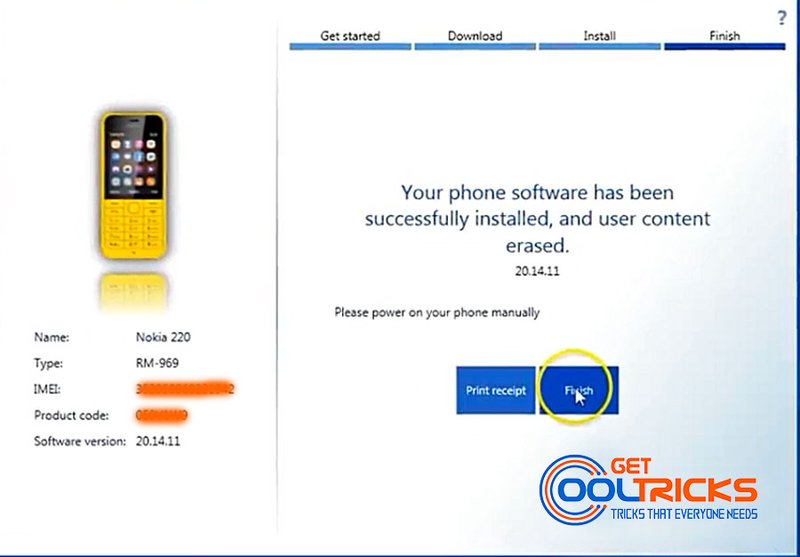 Other People are reading
You have now learned to flash your Nokia phone using Nokia Software Recovery Tool. Leave your valuable feedback and suggestions in the comment box provided below this post. Subscribe to our newsletter for getting the future updates directly to your inbox.