Almost every blogger starts their blogging career in Blogger.com or WordPress.com, as they get a sub-domain for free and they don't need to invest anything to set up a blog. Running the blogger blog on a Custom domain has a lot of benefits over the free blogger sub-domain. The top-level custom domain names increase the SEO of your site. For illustration, I'm moving the free blogger sub-domain getcooltricks247.blogspot.com to a custom sub-domain blog.getcooltricks.com. The steps are very simple. Follow the steps very carefully. You may like to read our tutorials on Adding Custom CSS in Blogger, Adding Widgets to blogger, Adding Custom Robots.txt.
Note
For doing this you need access to your Domain name control panel. You need to create some DNS records to link it with Blogger blog. Note that, editing the DNS zone file may differ according to the Domain Registrars and the hosting Providers. DNS propagation may take up to 48 hours for the changes to take effect. Kindly be patient until that time. In my experience, these changes take effect within 10 to 30 minutes.  Avoid mistakes when entering the DNS records, as it may make your site offline until you correct it. Here I am gonna link one of my sub-domain to a blogger blog. Follow the steps given below.
Running Blogger Blog in a Custom Domain
Login to your blogger blog with your Google account. Goto Basic > Publishing in the Settings as shown below. Now Click on the Setup a third party URL for your Blog.
Type in your Custom Domain name in the space provided. In my case, it is a sub-domain blog.getcooltricks.com and Click 'Save'. Since you have not created any DNS records, It will show an error like this.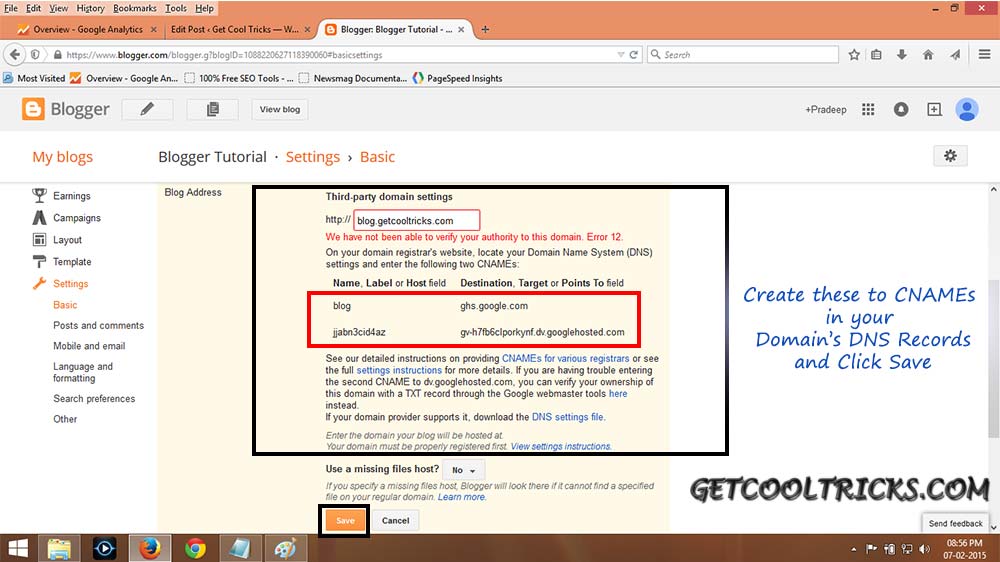 Now, it is the time to create the CNAME records and A records. Creating the CNAME and A records vary with Domain Name Registrars. Check this Google help to Create the CNAME Records.
Creating DNS Records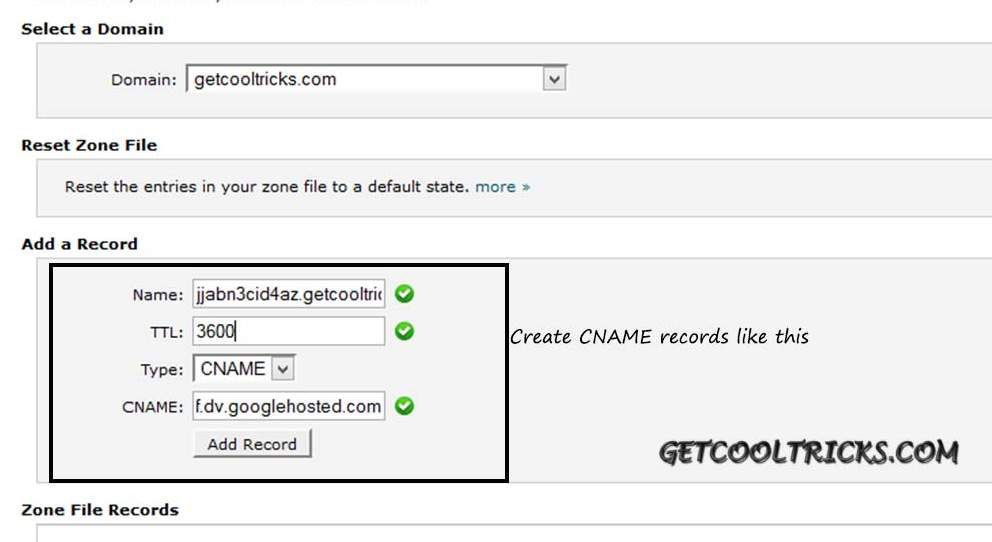 You can use any one method given below for creating the records. Wait some time after creating records, as DNS propagation takes 10 minutes to 48 hours. Read the Note at the beginning of the post.
Method 1
Create the two CNAMEs, that your Blog shows when you click Save button. Create those two records which look like. Kindly note that this is not the same for all the blogs. This is just an example. www may change to something like 'blog' if it is a sub-domain like blog.getcooltricks.com.
| Type | Host | Points to | TTL |
| --- | --- | --- | --- |
| CNAME | 2oh3uhe6dyhb | gv-xxxx.googlehosted.com | 3600 |
| CNAME | www | ghs.google.com | 3600 |
Method 2
Create 4 A records and one CNAME record as given below.
| Type | Host | Points to | TTL |
| --- | --- | --- | --- |
| A | @ | 216.239.32.21 | 3600 |
| A | @ | 216.239.34.21 | 3600 |
| A | @ | 216.239.36.21 | 3600 |
| A | @ | 216.239.38.21 | 3600 |
| CNAME | www | ghs.google.com | 3600 |
After completing this step, wait for sometimes. Now your blog's free sub-domain will redirect to your custom domain. In my case, getcooltricks247.blogspot.com should redirect to blog.getcooltricks.com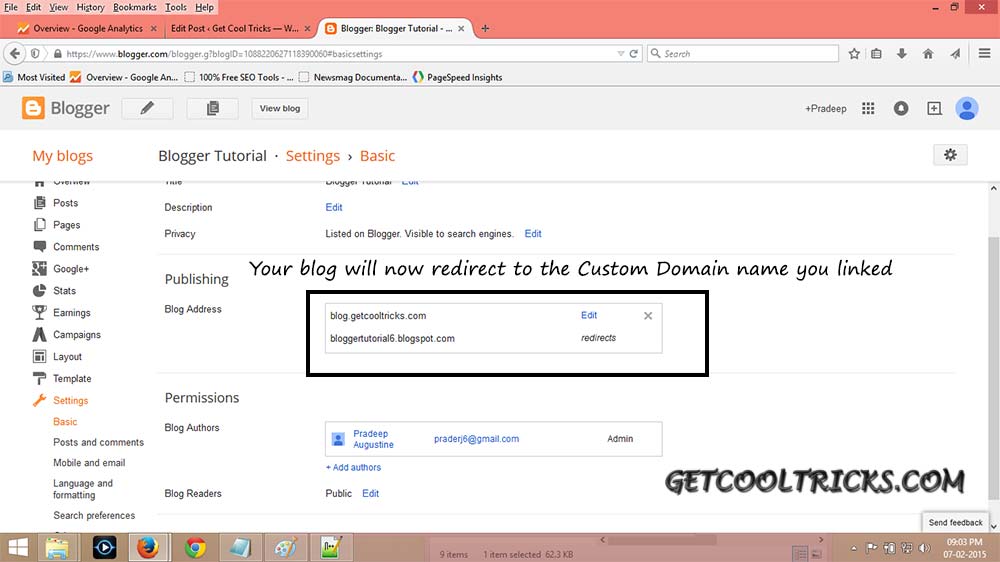 The blog now runs on a Custom Domain. Check the Image below. My Blogger blog is now running on a Sub-domain blog.getcooltricks.com.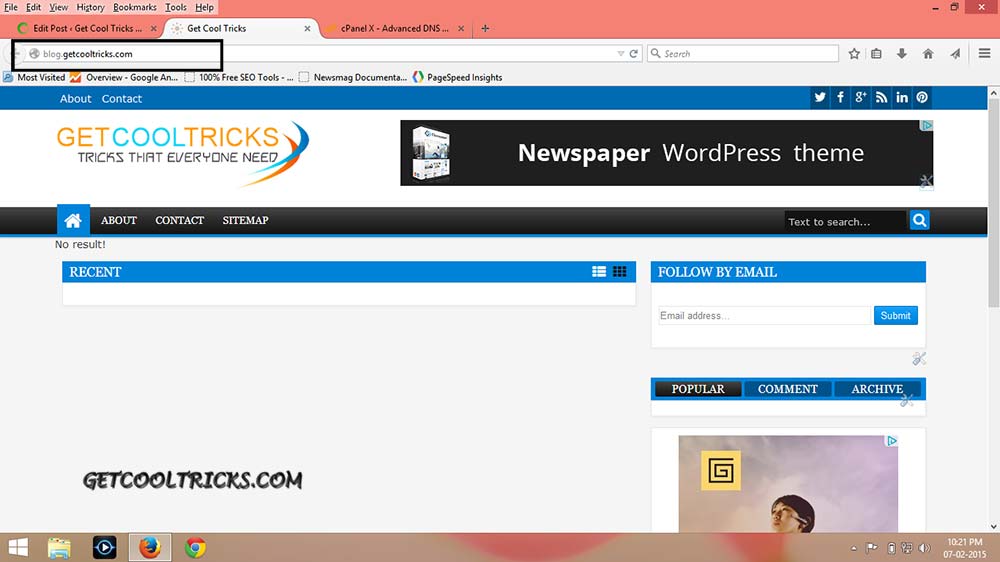 Other People are reading
Hope You liked this Tutorial. For any clarifications and suggestions use the comment box below. Subscribe to our Newsletter for getting the future updates directly to your inbox.