Some new bloggers may not be knowing the way to add widgets or gadgets to blogger sidebar. This tutorial is to help the new bloggers to add widgets to their blogs. Since I'm using a custom template that supports adding widgets in the sidebar, header and footer, my blogger layout may look different than others, but the method to add the widget is same. If you are very new to blogging, I recommend you to read, How to create a Blog in Blogger, Giving Professional look to blogger, Running your blog on a custom Domain, Creating Posts and Pages in blogger, Adding custom Robots.txt .
What are Gadgets or Widgets?
A widget is a stand-alone application that can be embedded into third party sites by any user on a page where they have rights of authorship, e.g. a webpage, blog, or profile on a social media site. For example, in Blogger, widgets are used to add contents like, Facebook Like boxes, Google + badges, Popular contents, recent comments, etc. Any HTML snippet can be added to the gadgets using HTML gadget. Even Javascripts and CSS can also be palced in the gadgets.
How to add Such Gadgets to Blogger?
Login to your Blogger account. Click the blog where do you wanna add a gadget. Gadgets can be added in the layout. Click the layout from the left panel as shown here.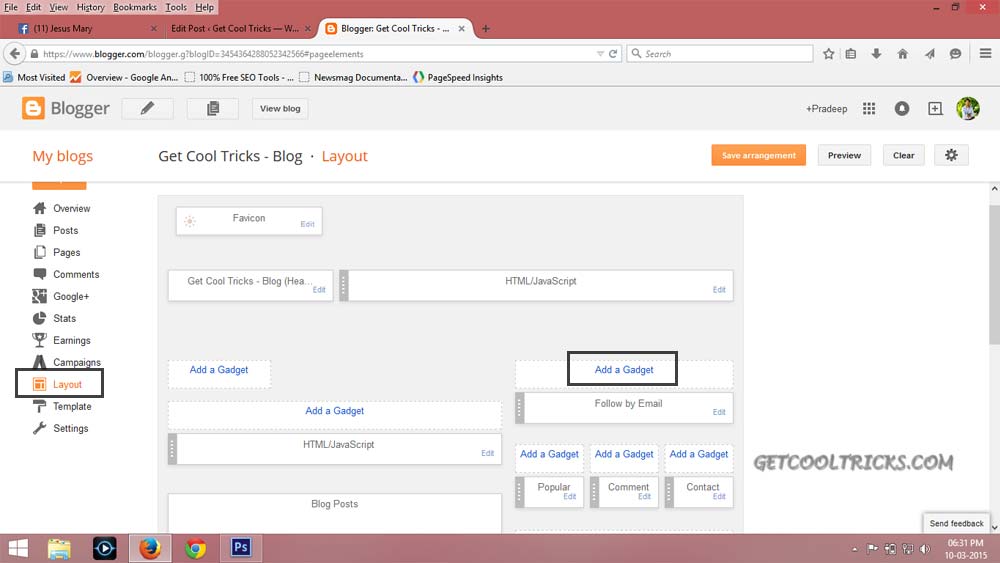 In the layout page click "Add a Gadget" from anywhere you want to add a Gadget. A popup opens and in that select the gadget you want to add. Since I'm using a custom template my blogger layout looks different according to the template. It may look different in yours. But the method to add the Gadget is same.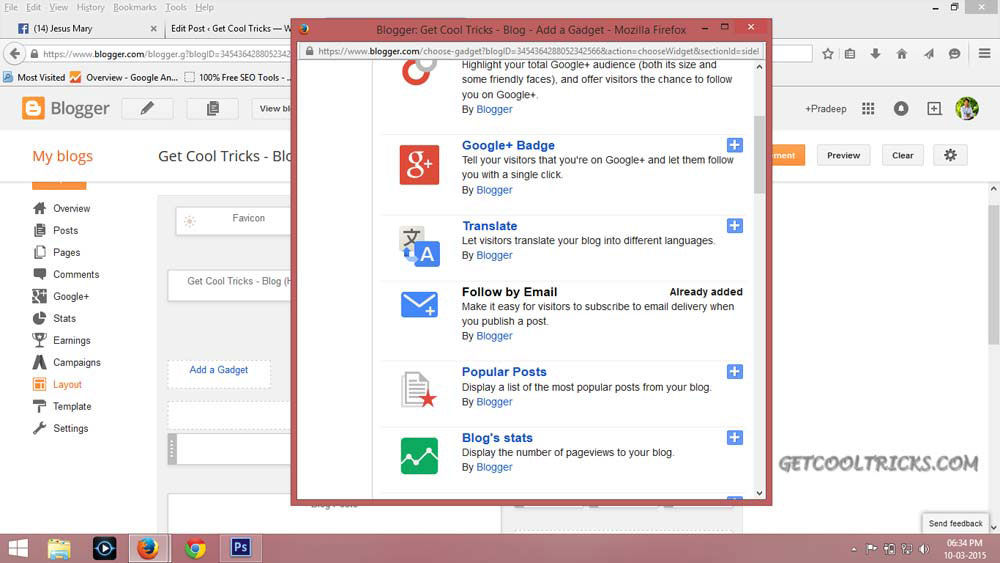 Click on the gadget you want to add. Enter in the details and click save. You have now added a Gadget successfully. Finally click "Save Arrangement" from the Layout Window in the right top side. HTML/JS gadget is the most widely used Gadgets in blogger, as it allows you to add any of the HTML snippets or Javascripts anywhere in blogger.
Other People are reading
Thank you for reading my tutorial. Hope You liked this Tutorial. For any clarifications and suggestions use the comment box below. Subscribe to our Newsletter for getting the future updates directly in your inbox.