Stock Recovery
The recovery that comes with your phone by default is the Stock Recovery and the modified version of this recovery is called Custom Recovery. You cannot do any modifications to the system files using the stock recovery and the options are also limited. Its main purpose is to delete all user data and files when the phone's software shows error or the phone was not able to boot. It can be used to install the update given by the manufacturer of the device. If your Phone is powered by MediaTek Processor, you may like to read: Flashing Android device using Smart Phone Flash Tool
Limitations of Stock Recovery
Stock recovery can be used to take backups of the user data alone in most of the phones.
It can do a complete reset of your phone.
It can install update packages provided by the mobile phone manufacturer after signing verification.
It can be accessed by pressing few keys together when the phone is booting.
This can be controlled with the volume keys and power buttons in most of the phones. Touchscreen support has been added to the recent models.
Custom Recovery
Custom recoveries come with a lot of functions. As the name indicates it is customized to have a lot of options. You can create your own recovery or just port it from other recoveries. The most widely used Custom Recoveries are Clockworkmod (CWM) , Team Win Recovery Project (TWRP), Cannibal Open Touch (COT), etc and also a lot of modified versions of these recoveries are also available namely Philz Touch Recovery, Carliv Touch Recovery for MTK devices, Philz touch recovery for MTK devices, etc. Phone must be rooted to install these recoveries and keep in mind that rooting voids your phone's warranty.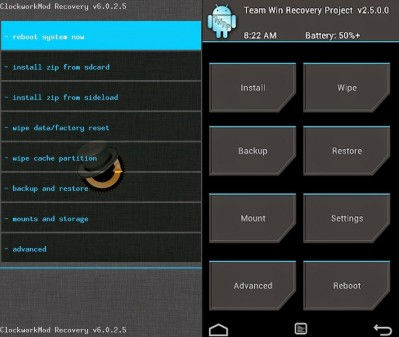 Advantages of Custom Recovery
Comes with a lot of options
Can do a complete backup of Phone Partitions and is called Nandroid backup. This can be used to bring back your phone when something had happened to your phone in the middle of the development or during the update.
Can install custom updates and ROMs easily with few clicks.
Can restore all the partitions from the Nandroid backup.
It has options to do an advanced backup and restore facility.
Can do pre-flash wipe. Which means formatting all the partitions of the android file system to install new ROM.
Can be accessed through key combination while the phone is booting also can be accessed through some softwares with root access.
Inputs can be given by pressing the buttons and also touch inputs are available in almost all the custom recoveries.
File system can be accessed in the recovery
ADB sideload is possible.
Can be used to connect the phones SD card to the in the recovery mode.
Themes can be applied, to have a good feel.
Can Skip Signature verifications while installing updates.
Can root and unroot your phone in advanced options and much more.
Warning!
There are a lot of methods available to install Custom recovery. Choose the one that is best suitable for your smartphone. XDA can give you the best ideas. Note that recovery partition is different for all the models. Don't try to install recoveries that are meant for other models. Flashing the incompatible recoveries may brick your phone. Bricking in the sense it will be just like a brick and cannot be recovered. You can check my thread for Celkon A97i if you have one. I recommend you to read my tutorial on Perfectly Starting Android Development.
Disclaimer
Rooting your phone and using custom Recoveries and ROMS have risks and may result in bricking your device, and has nothing to do with Google or the device manufacturers. In case of any mishap, I am not responsible if you brick/ruin your phone in any way.
Other People are reading
Hope you liked this tutorial. For any clarifications and suggestions, use the comment box below. Subscribe to our Newsletter for getting the future updates directly to your inbox.